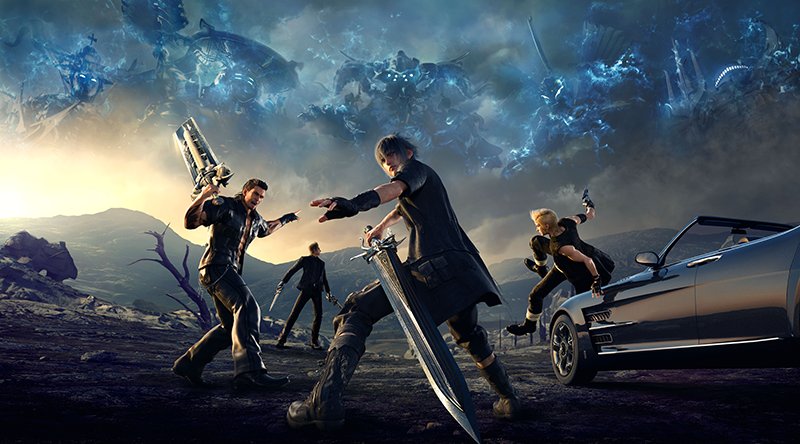 I love playing video games. I love watching my boyfriend play video games. When we first started dating, he actually introduced me to the Final Fantasy series. (I only knew a little bit about the franchise when I was into the anime/manga/game graphics community) My first exposure to the series was Final Fantasy XIII. I thought the graphics were amazing (the story is a different subject). He and I then played the remastered version of Final Fantasy X, which I loved. But I tried to play Final Fantasy X-2 but it didn't have the same effect on me.
When I heard that the Final Fantasy XV (FFXV) was coming out, I knew I wanted to play it. I immediately pre-ordered it on Amazon. But to their fail, they didn't guarantee their release date delivery so boo. I eventually got the game and started playing it.
One thing to note (and I highly recommend to anyone looking into playing) is that you need to (or at least, you should) watch the anime and the movie to understand the game better. If you don't, you may be a little lost.
*SPOILERS AHEAD* STOP READING IF YOU DO NOT WANT TO SPOILED!
So, having watched the anime and the movie, I was totally gushing when chapter 1 ends because then the timeline is the present! Everything finished — the king died, Noctis learned about what happened, and everyone is in a frantic. It's like: OMG, it's all connected now!! I just loved it.
Though I have not finished playing, I must say that I really like this open world. I like the quests, fishing, and the adventures they have. Maybe because I haven't finished playing the game that I honestly don't have anything bad to say about the game. Mind you, I am by no means a hardcore gamer. But, so far, I've been enjoying it.
Perhaps I'll edit this post when I actually do finish it and maybe I'll have more to say.